There is no better anniversary than the celebration of a birth and this week
Lillie McFerrin
is celebrating a year since the birth of her five sentence fiction prompts.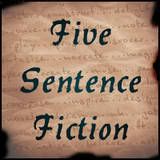 In honour of this special milestone our gift is to choose a writing prompt from all the words previously used.
There are so many good words to choose from but I decided I wanted to write something celebratory so I went for the word JUBILANT, originally the second prompt Lillie posted.
What I find interesting is how much the idea of FSF has grown over the year. The first words only inspired a few stories and now there are over 30 stories posted each week. All offering a unique take on the subject in a variety of genres.
Mine today is autobiographical...
Jubilant
Going to the theatre always sounds like such a delightful way to spend an afternoon but this was no matinee for my entertainment and pleasure.

It was suggested I take a behind the scenes tour to allay my apprehensions; my fear was palpable, I wonder did you sense it, deep within?

Retreating to my thoughts, still sick with worry, I prayed fervently for a natural resolution, this was not the way it was meant to be.

Nearly thirteen years on and I know you so well, you will never be pushed around, manipulated to turn in the opposite direction; given space and time you always find your own unique way.

You will always be my miracle, turning as you did in the eleventh hour, sparing your mother the knife and blessing me with such joy.
I was also inspired today by a text I recieved yesterday from a friend. It's two weeks before her due date and her baby is breech just like my youngest son was. I am hoping and praying for a miracle, that the baby will turn and be able to be delivered naturally and safely.
I've seen it happen and know that God is good!