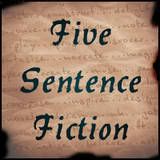 Now this was far easier to write than a zombie story, although my twelve year old declined the challenge this week!
This is actually a follow-on from this weeks
Visual Dare - Frustration - also known as - Jack and the Cow.
Thanks again to
Lillie
(and
Angela
) for challenging prompts that always stir the imagination.
Devotion
It was Jackson's father who taught him right from wrong, his mother made sure he always remembered to say "please" and "thank you", while Mrs Whitaker, his infant teacher, educated him in the mysteries of reading and writing.
However it was his grandfather who imparted the most valuable lessons; teaching him to open every wardrobe door in anticipation of reaching Narnia, to follow rainbows and dreams with a passion and most importantly to always have a bag of "magic" beans in your pocket.
Years ago he figured out that "magic" beans were made of jelly, although they tasted sweet he disliked the way they stuck in his teeth; he carried them anyway.
His grandfather had always lived a life dusted with make-believe but the lines between reality and fantasy were blurring rapidly like a camera lens being twisted out of focus.
Physically he was still fit and strong, Jackson enjoyed strolling beside him, never feeling too old to listen to his stories and share a bag of "magic" beans.